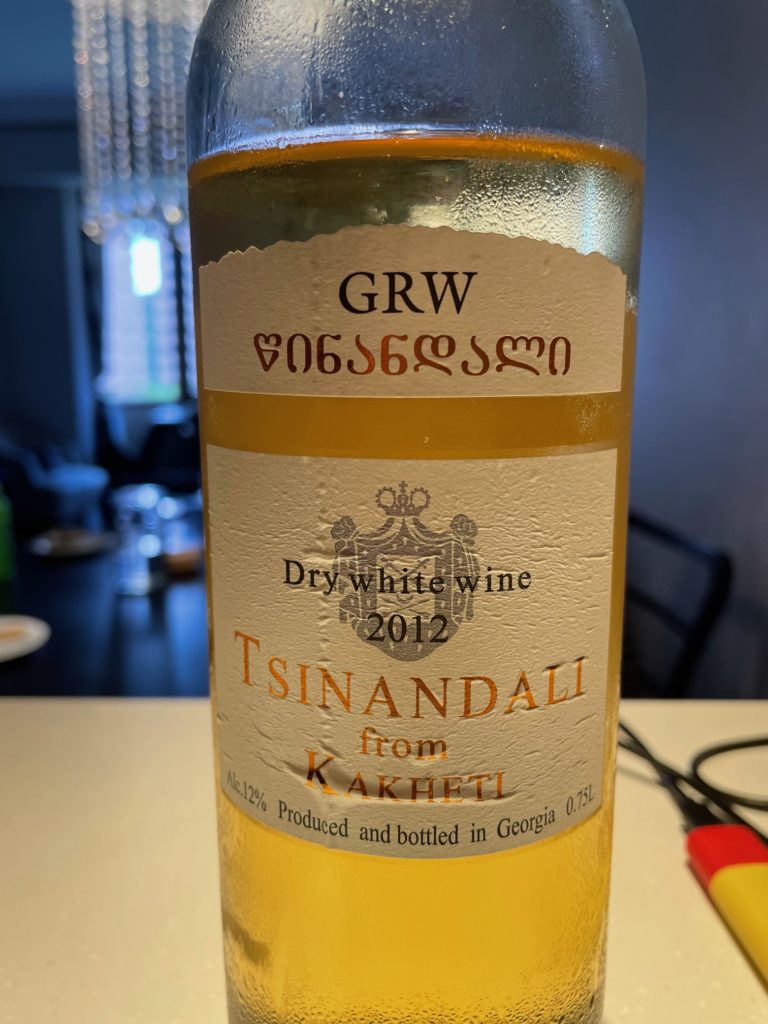 Green and Georgian Grape
Mtsvane is a Georgian wine grape, which is often blended with Rkatsiteli, the most famous grape from Georgia.  The name "Mtsvane" (or Mtsvani) means "green," "young," new" or "Green from Kakheti" in the Georgian language, named after the yellow-ish green coloring of its ripe berries.
Giant clay pots
The wines made with Mtsvane are often made with extended time sitting with the juice on the skin and even with grape seeds and the ripest stems. This produces higher alcohol levels and a natural preservative so no need for additional preservatives. The wines with Mtsvane are then typically made in the traditional Georgian style with the giant clay pots called "qvevri," which range from 50 liters up to 3.5 tons. Especially as it gets hot during the summer months in Kakheti and other eastern parts of Georgia (30+ degrees on average in July, the hottest month), the giant clay pots are kept in the ground where the wine can ferment in a cooler environment.
Orange wine vs Amber wine
This production technique of extended contact between skin and juice makes what has become known as "orange wine," which is basically making white wine in the same way that you make red wine (keeping contact with the grape skin and the juice after you crush the juice out of the grapes). But "orange wine" as a term is not favored in Georgia. Georgian winemakers prefer the term "amber wine." In the fascinating Georgian language (which includes 3 different alphabets), the color "amber" translates to "qarva" (ქარვა). Peri – means color in Georgian so the amber-colored wines are called "Qarvisperi" (ქარვისფერი).
Georgian winemakers reportedly believe that "amber wine" is more true to the amber color of the wine itself (I tend to agree) and stays truer to the long and distinguished wine-making history of Georgia, which only recently came into the Anglo wine world's consciousness, in significant part due to the interest and passion about "orange wine" in recent years.
First coined in 2004 by UK importer David Harvey, the interest in Georgian and Italian white wines with color has now becoming relatively accessible, even appearing on many high-end restaurant menus and accessible in many wine shops globally.
Taste
Smells like an orange wine with oxidized sense; tastes like a rusty acidic sauvignon blanc; longer finish with lots of green herbs playing together like in an aperol
Random Googles:
Mtsvane is considered to be one of the oldest wine varieties in the world, dating back 6,000 years
The Georgian language is not the only fascinating thing about Georgia. In addition to numerous UNESCO World Heritage Sites throughout the small country (it's the size of the state of Florida in the US), UNESCO has recognized 4 cultural "elements" for inclusion

the Georgian language
the qvevri used in wine-making
a unique communal wrestling match set to music called Chidaoba that most men in Georgia practice, and
polyphonic signing (think Georgian choir chants which uses singing from your mouth and your throat at the same time).

Foods described as pairing well with Mtsvane by this wine enthusiast are apple sauce and potato pancake. Haven't tried but makes sense to me.
Tsinandali Palace is an exceptional place to visit in Georgia, both to explore the beautiful grounds and to drink wine in the cellar